Why do Women Need a Lawyer in a High Asset Divorce?
Skilled Attorneys for Women, Dedicated to Protecting Your Future During Legal Separation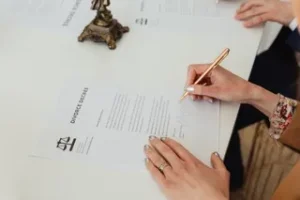 When most people marry, they believe it will be forever, but unfortunately, this is not always the case. However, for many people, divorce is not the best option. Perhaps they hope to reconcile one day, have strong religious beliefs, or need to maintain health insurance. Whatever the reason, it is important for women to know that there may be another option.
A separation agreement allows couples to have separate lives and reach decisions on all typical things that would be addressed in a divorce, such as child custody, property division, and spousal support, without getting divorced. This means that they can reconcile at any time. Not all states recognize legal separation, both Indiana and Ohio do. However, in Michigan it is referred to as separate maintenance.
The decision to legally separate should be taken with great care. There are important factors to consider, and you should have all the information you need to make an informed choice.
At Woodford Sathappan McGee, we will take the time to understand your situation, as well as your goals and desires, so that we can provide tailored advice. Our family law firm exclusively represents women, and we have a passion for empowering women with knowledge of their rights so that they can move forward with confidence.
Whether you decide to proceed with a legal separation agreement or a divorce decree, we can help ensure that fair decisions are made and that your future is protected.
We offer a free consultation so that women can seek some initial advice, regardless of their situation. Contact us today at 380-212-3731.
What Is the Difference Between Legal Separation and Divorce?
Although legal separation and divorce are governed by a lot of the same laws, they are fundamentally different. The key difference is that while the divorce process legally ends a marriage, legally separated spouses are still married in the eyes of the law.
Legal separation allows a couple to officially but temporarily separate. It is a pause to the marriage that gives the couple guidance on key issues such as child custody and property division without officially ending the marriage.
The Advantages of Legal Separations
The benefits of legal separation depend on each unique situation. For some people, the most important benefit is their religious beliefs, while for others, financial reasons are the key driving factor. Some of the potential benefits of a legal separation are:
Many couples legally separate because of their religious views

You can live separately, although you remain married

Key issues such as property division,

child custody

,

child support

, and

spousal support

can be resolved through court orders

You can reconcile and continue the marriage at any time

It could give one spouse an opportunity to address their issues, such as addiction

It could serve as a trial separation before committing to a divorce

Tax benefits of marriage could be retained

Insurance benefits such as health insurance

Other financial benefits such as military benefits or social security benefits
The Disadvantages of Legal Separations
Although there are advantages for some couples, there are also some important disadvantages to consider. It is important that you seek the advice of a family law attorney before making a decision.
Some of the possible disadvantages of legal separation include:
Extra Legal Fees –

If you legally separate and then decide to divorce, you will end up paying more legal fees.

You Can't Remarry –

When you legally separate, you keep the legal status of being married, which means that you can't marry someone else.

Any Property Acquired Could be Divided –

Any property acquired while you are married is subject to division between spouses. That means that while you are legally separated, any assets you gain

could be divided

at a later date. In addition, if your ex-spouse acquires any debt while you are separated, then you may end up partially responsible for paying it off.

You May Have to File For an At-Fault Divorce –

If you lived separately from your spouse for an extended period of time before divorce, then you may have to file for an at-fault divorce rather than a no-fault divorce. An at-fault divorce can complicate your divorce and could increase tensions.

In Indiana, You Only Have One Year –

If you are legally separating in Indiana, then you can only do so for one year. At this point, you will need to decide whether to reconcile or divorce. All court orders, such as those involving

child custody

, will also end after a year, although they can be used as a basis for the divorce decree. However, in Ohio and Michigan, legal separation can be indefinite.

Time-Consuming –

Many people assume that a legal separation is more streamlined than a divorce. However, a legal separation covers a lot of the same issues as a divorce, and so it could take just as long to finalize. Some cases take many months, and if you then decide to divorce, then the whole process will be even more time-consuming.
Legal Separation in Cases Involving Domestic Violence
Thanks to our dedication to women, we have a unique ability to meet their needs. For that reason, numerous women who have suffered domestic abuse have felt able to come to us for help.
In cases involving domestic violence, we generally don't recommend legal separation, as this keeps you involved in an abusive relationship. However, we will take the time to listen to your needs and advise you based on your personal circumstances.
We understand how difficult it is to take the first steps, and we will take quick action to protect you. First, we will file a protection order to keep your spouse away from you and your children. This will give you time and space to make important decisions from a place of clarity and with proper support.
Does Legal Separation Need to Be Formalized?
Legal separation is different from physical separation. A physical separation is where spouses live separately but do not have any formal agreement. On the other hand, a legal separation must be filed with the court in a similar way to a divorce.
Just like a divorce, couples who legally separate can secure court orders on issues such as property division, spousal support, child custody, and child support. Without legal guidance on these issues, couples may experience a lot of conflicts, and spouses will be unable to protect their rights both to property and time with their children.
What to Expect When You File For Legal Separation
In order to secure a legal separation agreement, one party will need to file a petition for legal separation. The other spouse will then be served a summons which they will need to respond to by either agreeing to the separation or they may file a counterclaim.
In order to secure a legal separation, the court must agree that the conditions of the marriage make it intolerable for the couple to remain living together. They must also agree that marriage should be maintained.
A family law attorney can help you file for a separation agreement and will help you file for actions based on key issues such as property division and child support.
At Woodford Sathappan McGee, we will help you and your spouse come to agreements on key issues using mediation. Any issues that cannot be agreed upon may require court hearings, and we will be prepared to advocate on your behalf in front of a Judge. We will help you identify the legal steps you need to take and will work to protect your rights while prioritizing the needs of your children.
Why Do You Need an Attorney to Get a Legal Separation?
If you are considering a legal separation, then it is important that you understand all of the implications. A family law attorney can advise you based on your specific circumstances and will ensure that you have considered all of your options.
If you do decide to proceed with a legal separation, then you will be faced with a lot of important decisions, such as what your parenting schedule will look like and how your property will be divided. An attorney will help you and your ex-spouse resolve these issues while ensuring that your tights are protected.
You are within your rights to file for a legal separation without legal representation, but we do not recommend it. When you have the support of a lawyer who is dedicated to your case and compassionate to your needs, you will find that the process is smoother and that the outcome supports your future.
Legal Separation For Women
What happens if my spouse and I reconcile after a legal separation?
If you and your spouse decide to reconcile, you can submit a motion to dismiss your separation order. A family law lawyer can help you file the appropriate forms. Once your motion is approved, you can resume your marriage.
What happens if my spouse and I decide to divorce while we are legally separated?
If you decide to divorce, then you can proceed at any time. You may have already come to a lot of decisions that could help your divorce move forward more quickly than if you were starting from scratch. However, there may be additional factors that will need to be considered, such as dividing any remaining shared property.
What decisions need to be made when we legally separate?
When you legally separate, you will need to come to important decisions such as child custody and child support. You will also need to resolve spousal support if appropriate in your case and divide property. You will remain legally married, and so a lot of marital property may remain untouched. However, some important decisions regarding property will need to be made, such as who remains in the family home and how any debts will be paid.
Can I start a new relationship if I am legally separated?
It is common for people to start new relationships after leaving their spouse. As long as you adhere to the legal requirements expected of you in your court order, you can start dating someone new. However, you cannot remarry unless you formally divorce your ex-spouse. It is also important to consider that if you start dating, it could create a lot of conflict, which could make your divorce more complicated, time-consuming, and costly.
How long does it take to secure a legal separation?
Although a separation is not as final as a divorce, you are still required to resolve a lot of the same issues, which means that it can still take a substantial amount of time. It may take as long as a divorce would take, which is dependent on how many contested issues. Some cases are resolved in a matter of months, and others can take over a year.
How much does a legal separation cost?
How much your case will cost will depend on the number of contested issues and how much court involvement is necessary. When you contact Woodford Sathappan McGee for a free consultation, we can give you a rough idea about how much your case will cost so that you can make an informed choice about how to continue.
Contact Woodford Sathappan McGee Today For a Free Consultation
At Woodford Sathaappan McGee, we exclusively represent women in family law matters in Ohio, Michigan, and Indiana. We believe that our narrow focus gives us a clear advantage when it comes to supporting our clients and securing the best possible outcome that supports their future and the future of their families.
If you're considering a legal separation, we can advise you on the advantages and disadvantages based on your specific circumstances. This will allow you to make an informed decision about your next steps. We believe in empowering women with the knowledge they need to make decisions that are right for them. Our goal is to help you move forward with your life feeling confident and secure.
We will use mediation where possible so that you and your spouse can come to an agreement on key issues. This will minimize court involvement and cost, speed up the process, and allow for personalized arrangements. However, we are also skilled litigators and are prepared to stand for you in the courtroom and protect your rights. We are proud to be able to help women through even the most complex family law issues.
We offer a free consultation to all women facing family law issues in Indiana, Michigan, and Ohio. Contact us today at 380-212-373.